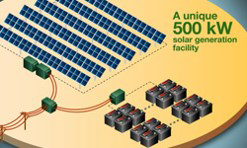 Project Type: DOE funded research project
Location: Albuquerque, New Mexico
Client: Public New Mexico Resources (PNMR)
Products/Services: Integrated battery controls
Located near Mesa del Sol, this project is a combined solar power and battery energy storage system (BESS) facility. The BESS is assembled in two parts; advanced lead acid batteries with an energy rating of 1 megawatt for shifting and UltraBattery™ advanced battery units with a power rating of 500 kilowatts for smoothing. The research involved proving two aspects of storage functionality:
Smoothing Solar Output: To protect power quality and prevent damage to customers' appliances and equipment, electricity flowing onto power lines must always equal customer demand for electricity.
Shifting Solar Output: The battery inverters provide maximum operational flexibility by allowing four quadrant control, which means real power (watts) can be produced and consumed, and reactive power (vars) can be produced and consumed. Energy storage connected to the grid through smart inverters is a very effective way to manage line voltage.
Trimark provided the integrated PV/BESS controller as part of a team that included PNMR, Sandia Labs, and local university staff.