Battery Energy Storage
Trimark configures SCADA to provide the advanced controls that Battery and PV+Battery resource owners need to participate in open energy markets, automate charge-discharge decisions, and support grid stability.
Trimark's Integrated Control Overview
Trimark's SCADA platform delivers unparalleled intelligence to balance, protect, command, and control any battery type across an extensive range of applications. The platform provides a flexible system robust enough to work across multiple MW storage configurations or in concert with power production assets.
Trimark's SCADA communicates seamlessly with a range of other controls, such as SCADA, DAS, or EMS, meeting all the communication requirements for IEC 61850. IEC 61850 is the standard for utility automation that regulates data communication for electrical grid generations.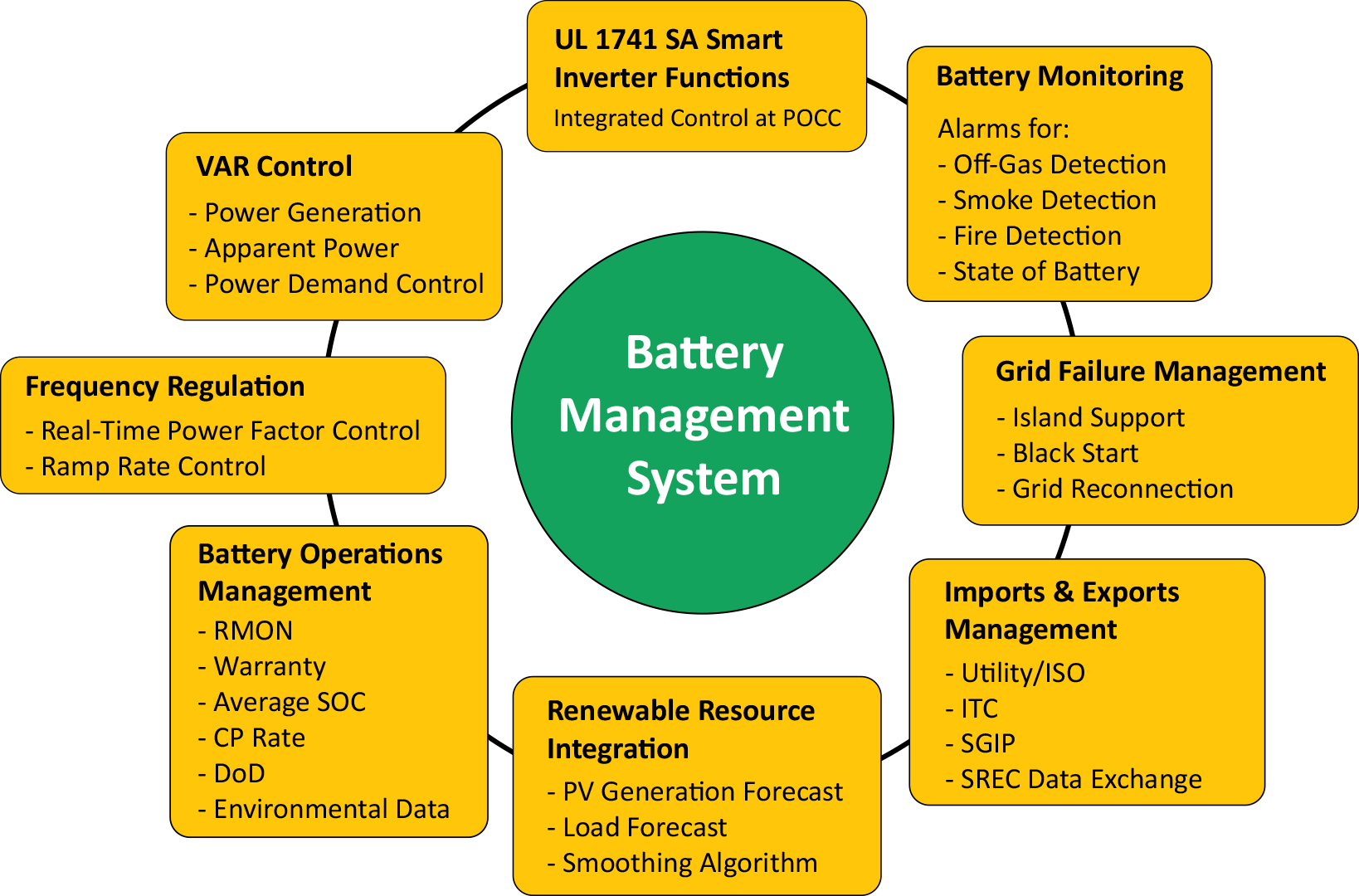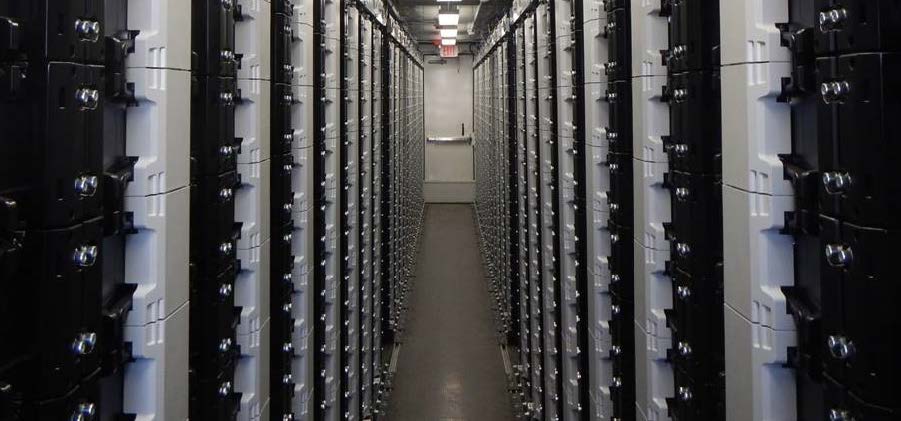 Trimark offers an integrated solution to battery energy storage, combining Trimark's SCADA platform with an appropriately-sized Battery Energy Storage Solution (BESS).
By combining

Trimark's SCADA

control platform with BESS, owners can align multiple generation sources, control charge and discharge events, track power characteristics at the point of interconnection, trend asset performance for predictive maintenance, and automatically produce and distribute scheduled reports.
The combined Trimark/BESS platforms support smoother intermittent distributed renewable generation and shaving peak demand.
Trimark also has a preferred installation partner, Worley. Our team can engineer, select equipment, install, and commission an end-to-end solution.
The Trimark platform supports smoother intermittent distributed renewable generation and shaving of peak demand.
Trimark's Commercial & Industrial (C&I) Overview
For commercial and industrial (C&I) enterprises, the Trimark platform simplifies "behind- the-meter" deployment of energy storage-based services that reduce energy costs and increase resiliency.
Distribution utilities benefit from "front-of-the-meter" deployments that smooth intermittent distributed renewable generation, shave demand peaks, achieve more efficient system utilization, and better manage distributed assets.
The Trimark solution offers an integrated battery, power conversion system (PCS), and AEROS controls in a single system. It is simple to install, commission, operate, and maintain. The platform is scalable with a wide range of energy options from 100 kWh to 800 kWh. All of the components are packaged in robust outdoor-rated cabinets that include full environmental control and safety equipment.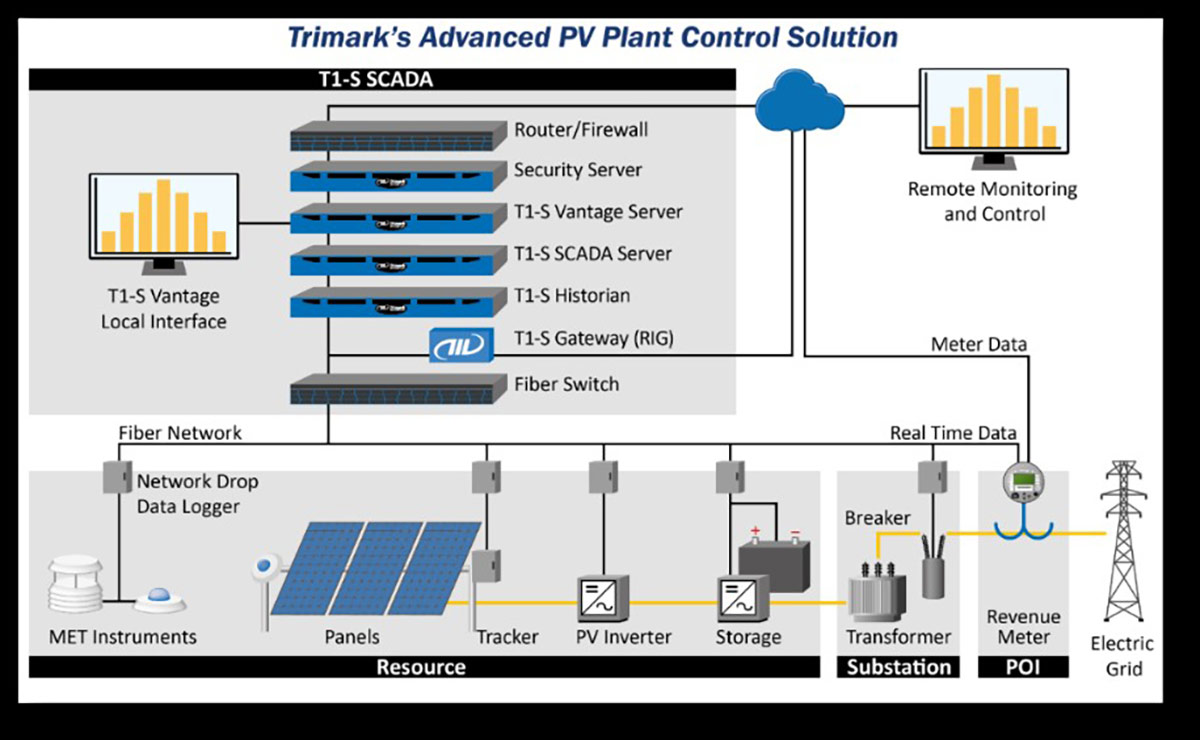 An Integrated Approach for PV and Battery Energy Storage Operations
Trimark's SCADA system includes the following functions that incorporate the BESS for coordinated control with PV generation resources:
Firm capacity/solar smoothing: Guarantees availability of backup energy by maintaining a PV production schedule within a pre-defined dead band with the ability to make adjustments in selected time increments
Grid support: Provides short-term power adjustments to maintain system frequency within required levels and reduce rapid voltage and power swings
Energy shifting: Utilizes a Schedule Mode or Peak Limiting mode to determine charge and discharge periods
Power setpoint: Enables control from an ISO – Automated Dispatch System (ADS) or Automatic Gain Control (AGC) – local operations or remote (owner) control room dispatch to implement the desired ramp-rate and power output settings at each battery
Black start operation: Start up without power from the grid and operate in standby mode while disconnected from the grid
Ramping support: Provides supplemental power during startup and shutdown of baseload generation or when solar output fluctuates
Energy arbitrage: Shifts energy production from low-value to high-value periods
Spinning reserves: Grid-connected reserve power ready for instantaneous delivery
Non-spinning reserves: Reserves not connected to the grid but able to deliver power within minutes
  Battery Energy Storage Uses
Balancing grid supply and demand: Can help balance electricity supply and demand on multiple time scales
Peak shaving and price arbitrage opportunities: Can flatten daily load or net load shapes by buying power and charging during lower price periods and selling power and discharging during higher-price periods
Storing and smoothing renewable generation: Storing excess solar-generated electricity and supplying it back to the grid or to local loads when needed can reduce renewable curtailments, negative wholesale power prices, and price spikes related to evening peak ramping needs
Deferring large infrastructure investments: Installing batteries at strategic locations, at a much lower cost, enables utilities to manage growing demand while deferring large grid investments
Reducing end-use consumer demand charges: Large power consumers can reduce their electricity demand charges by using on-site energy storage during peak demand times
Back-up power: Batteries can provide back-up power during outages or to support electric reliability
Projects
Prosperity Energy Storage
Located near Mesa del Sol, this project is a combined solar power and battery energy storage system (BESS) facility. The BESS is assembled in two parts; advanced lead acid batteries with an energy rating of 1 megawatt for shifting and UltraBattery™ advanced battery units with a power rating of 500 kilowatts for smoothing.
Read More…
Alta Gas
Trimark was a key contributor in delivering the CAISO revenue meter and RIG required to commission AltaGas' Pomona Energy Storage Facility by its deadline. The project was completed in under four months – the fastest SCE commissioning timeline on record. The Pomona facility uses a Greensmith Energy storage system that is co-located with AltaGas' existing natural gas turbine and associated substation.
Read More…
See More Projects