SCADA Performance Management
Trimark's powerful SCADA does more than just collect and present data. It integrates advanced SCADA functions with intuitive analytical tools to meet the operational, performance, and business needs of resource owners, operators, asset managers, and maintenance teams. It turns data into actionable information, enabling informed decision-making to optimize power generation and maximize profits. Performance Management unlocks the real value of SCADA – enhanced understanding of what the data means. Performance management confirms that all of the equipment at a site is performing at the expected levels and drives actions that deliver expected financial results.
Key Performance Indicators and Power Production
Is every device that is used to produce power operating as intended? The Key Performance Indicator (KPI) dashboard shows the amount of power generated in real time, along with power factor and voltage information. The Performance Index (PI) and Availability Index (AI) indicate if a site is performing at the intended levels given the site characteristics.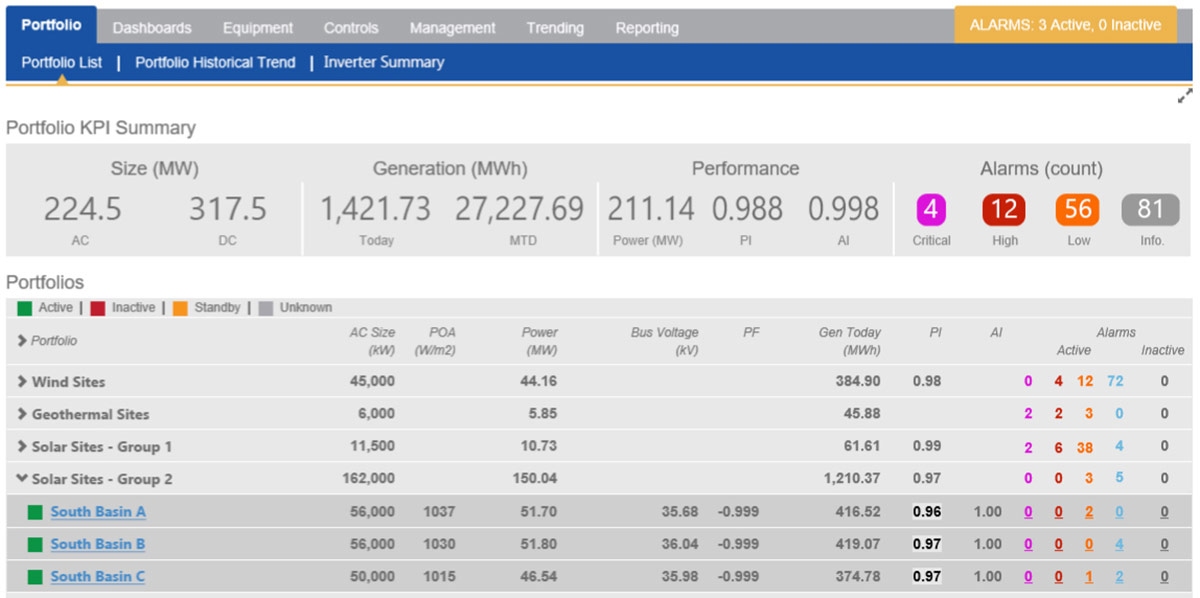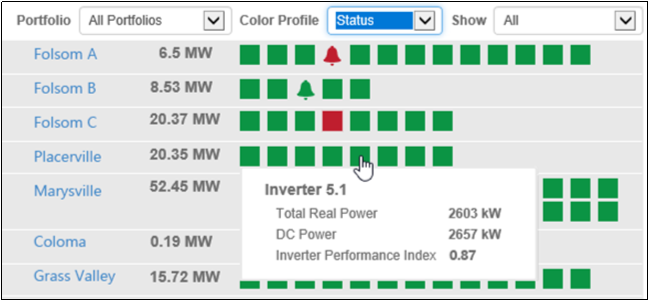 Portfolio Device Summary
More insight can be gained to see if all of the power-producing devices, such as inverters, DC strings, and trackers, are available to produce power. For example, the Portfolio Device Summary – Status dashboard displays real-time generation and status of each site inverter.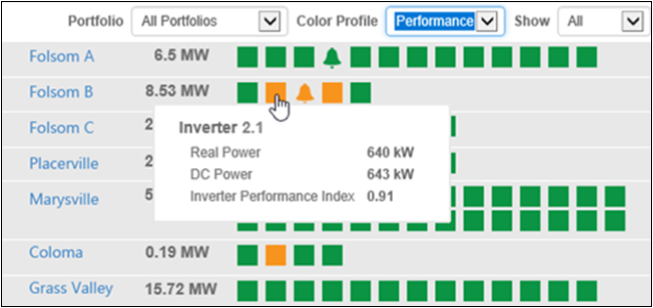 Performance issues can be identified by looking at the weather-corrected Performance Index of the inverters on the Portfolio Device Summary – Performance dashboard.
Reports
Performance Trending Report
More detailed information can be derived from running device reports, such as a DC String Trending Performance Index Report. When the sun is shining, a Performance Index of less than 100 percent indicates the need to determine the cause of the reduced performance.
Tracker Deviation Report
Underperformance can also be attributed to trackers. A Tracker Deviation Report assesses each tracker's operation and angle to determine if there are issues with a tracker drive or controller. Trimark's system also provides modeled tracker angles. Calculating a tracker's performance index using the modeled tracker's angle is another way to track down deviated trackers.
Curtailment Activity Report
All of a site's equipment may be operating as intended, but a site's financial performance will be impacted if the site is curtailed. Running a Curtailment Activity Report identifies when power was curtailed, the source, reason, and duration. This report can also be used to support financial settlements and lost energy reimbursements.
Daily Device Lost Energy Report
Lost Energy calculations are helpful in estimating the impact of out-of-service inverters on the entire plant. Statistical methods are applied to capture the Lost Energy of inverters at the sites.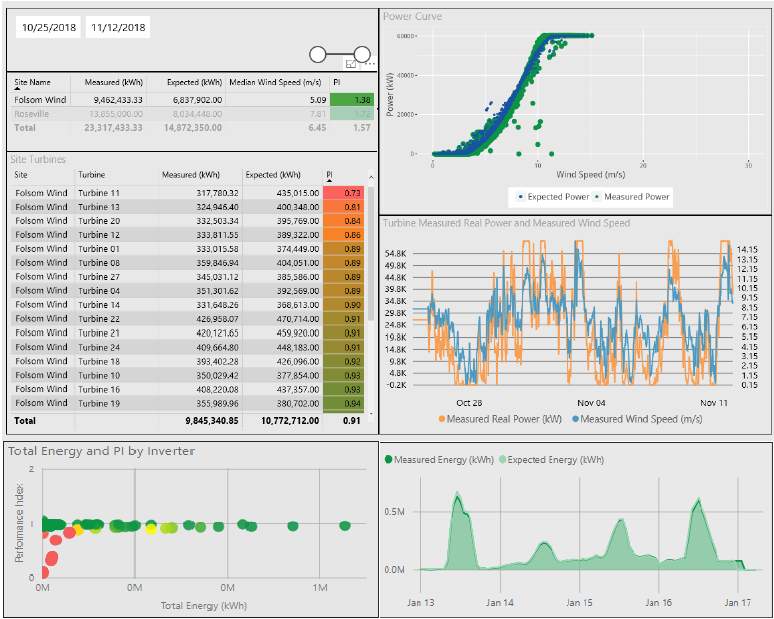 Advanced Analytics
Clear Sky Plane of Array Modeling Dashboard
Trimark Vantage provides a Clear Sky Plane of Array Modeling Dashboard that predicts the direct and diffuse insolation on horizontal surfaces assuming zero cloud coverage (a clear sky). This enables O&M teams to determine when POA sensors should be calibrated for optimal performance by comparing the Clear Sky POA values with the current measured POA values on a clear day.
Wind Performance Dashboard
Trimark Vantage designates an interactive user page for wind performance analysis. Performance indexes of wind sites and wind turbines are available for O&M engineers to view site performance at a glance and drill down to details, including turbine measured power, turbine expected power, wind speed, air temperature and barometric pressure. This simplifies the process to detect flawed turbines and identify other causes of issues.
Projects
Corazon Ranch Solar (Under Construction)
Corazon Ranch is a 200 MW solar project located in Laredo, Texas. Trimark is providing a full SCADA system for the site.
Read More…
s

Power Solar Portfolio

sPower operates a fleet of Solar Power Production facilities that generate over 1 GW of renewable power. This fleet is managed and operated at their Operations Center. The sites and all of the Operations Center systems are based on Trimark's SCADA and Vantage platforms. 

Read More…
See More Projects
We call it our little piece of safety. We now have full visibility and controls that we've never had before.
Randy Corey, Vice President, sPower