Solar SCADA
Monitor and manage performance for a site, an entire portfolio of sites, and site devices with Trimark's SCADA. Trimark married advanced SCADA functions with intuitive analytical tools to meet both operational and business needs of resource owners, operators, and maintenance teams.
A Single, Unified Solution for PV Control and Management
Utility-scale solar resources are complex and generate large amounts of data. The equipment at these sites create thousands of data points. Actions require immediate analysis and response. To address the unique challenges to maximize PV power generation, a SCADA system with precise monitoring and detailed analysis capabilities is needed.
From reporting to forecasting, Trimark provides a complete utility-scale SCADA system, including measurement, automation, logic, and performance management. It's exactly what you need to maximize uptime, meet revenue commitments, optimize asset life, and fine tune performance.
Trimark's SCADA solution combines intelligent automation, real-time control and a highly intuitive user interface. SCADA lets you reach across your entire portfolio or down to any device at any site. You can manage your system from a web browser or even a mobile app using Trimark Vantage, our intuitive user interface. You can also let the system automate routine actions, process external commands, and deliver exact power values at the point of interconnection.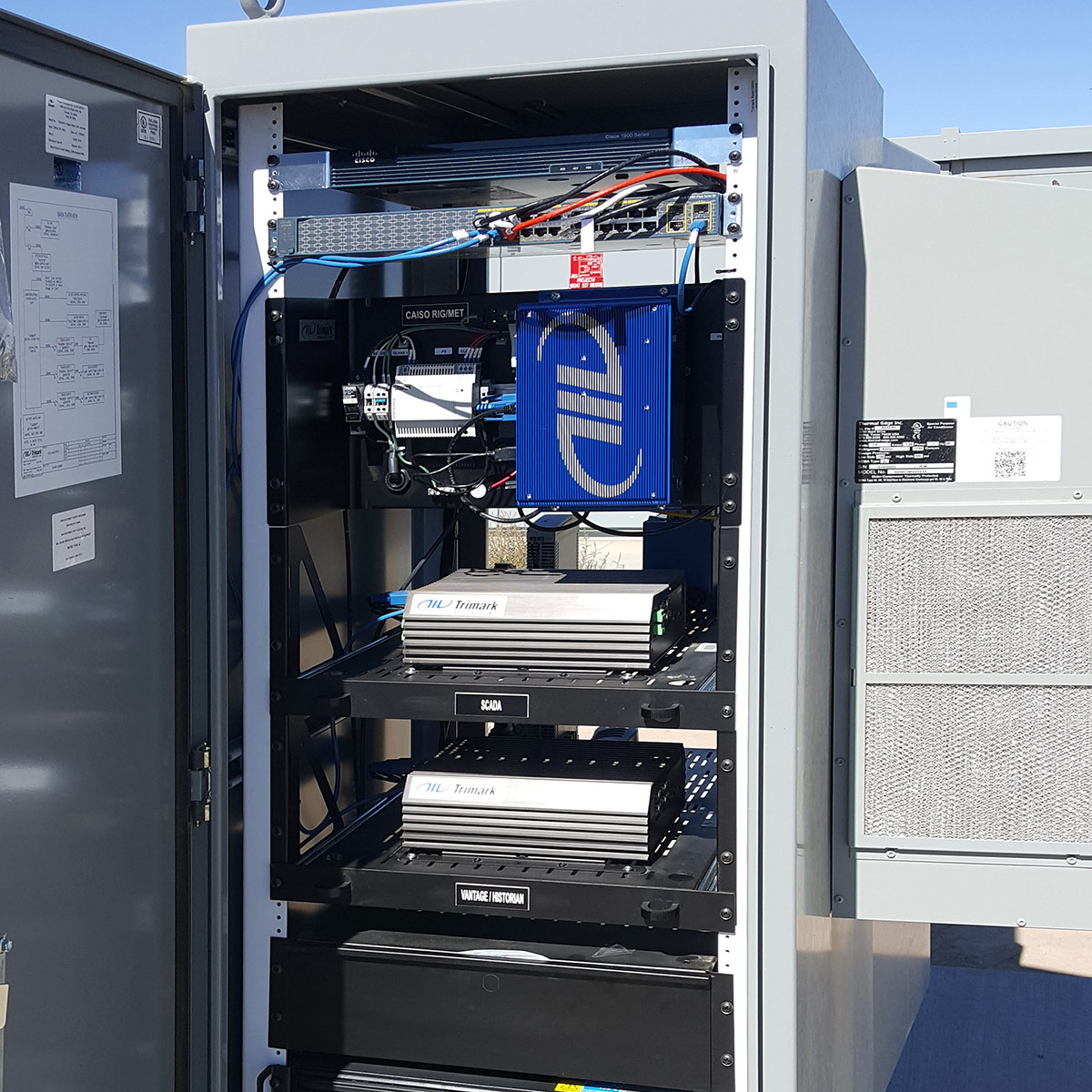 Trimark Associates ranked #1 worldwide for utility-scale solar monitoring at 170 plants producing 6.5 GW of power.
Green Tech Media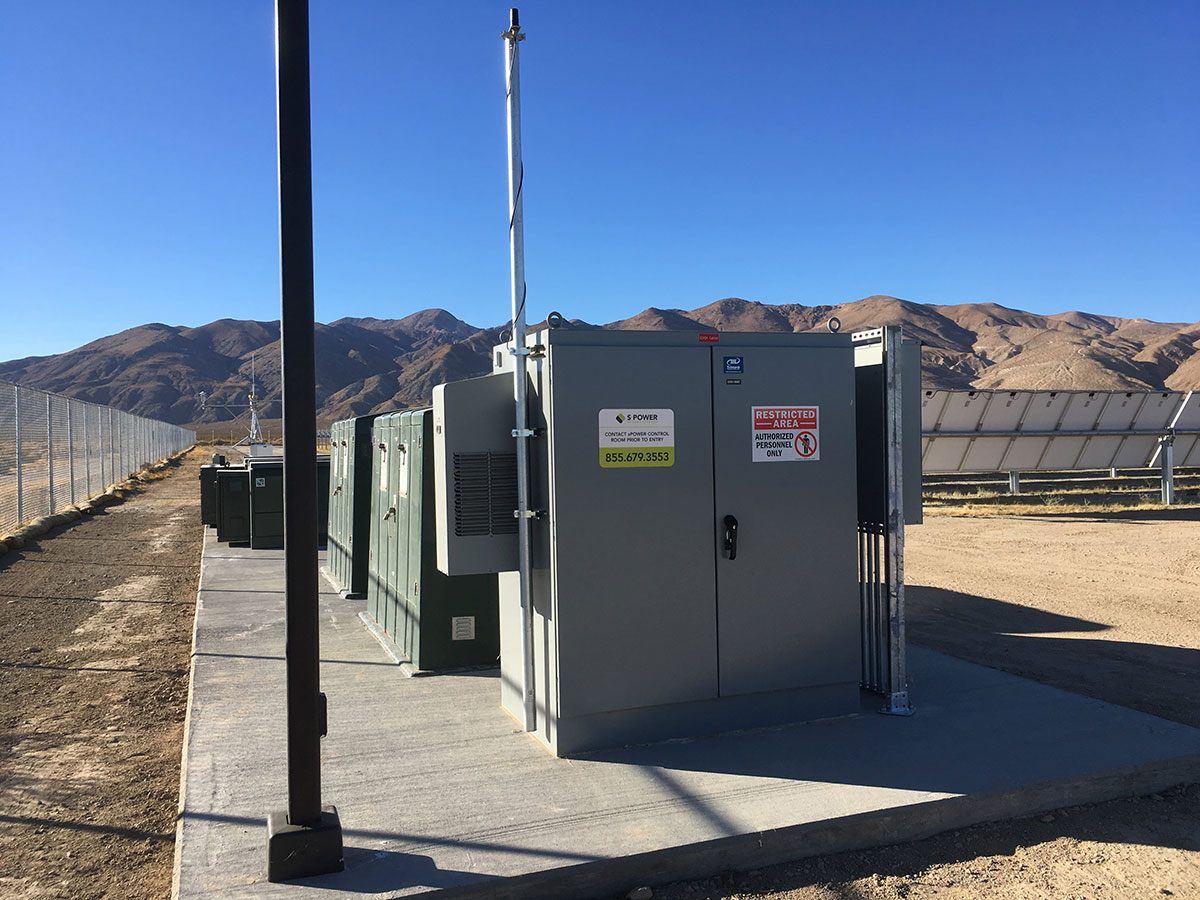 Manage your Power Production with Trimark SCADA
Trimark's SCADA system enables real time monitoring and pinpoint control, along with customizable reports that are used to analyze and optimize performance. The system monitors and controls a variety of devices at utility-scale sites, such as inverters, meters, trackers, meteorological stations, sensors, and other smart devices. The data from these devices is used to highlight deficient performance and point out the need for maintenance activities.
We continually work to evolve our system to meet our clients' needs. Our ongoing advancements illustrate how powerful a SCADA system can be to ensure solar power plants operate and perform as intended.
Trimark SCADA System
SCADA − Gathers and relays data; performs control logic and operations
Historian − Collects and stores operational data for use in reports, controls, and real time displays
Vantage User Interface – Displays real-time data for monitoring and control, enables users to issue commands, notifies users about alarms and alerts, and generates reports that support performance
Data Gateway – Provides industrial-strength automation, control, and secure bi-directional data telemetry
Revenue Metering – Ensures equitable settlements and measures exact performance
Meteorological Stations – Measures key environmental factors that impact performance
Server Racks and Network Drop – Delivers security and connectivity in a durable configuration
All of these features can be managed via local, remote, and mobile access.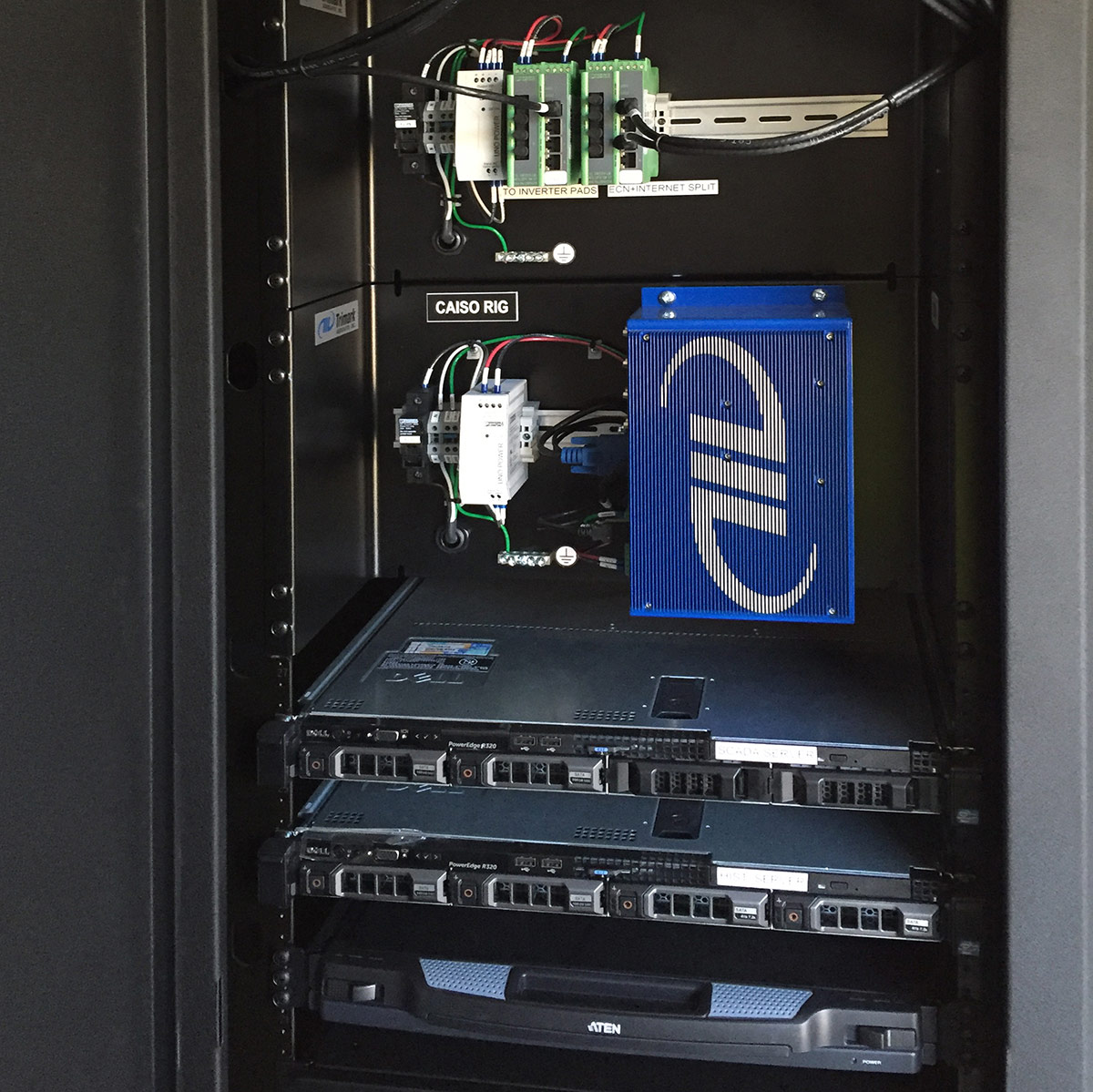 Innovative Design In-House
Trimark's SCADA system was developed and designed in-house, adding value, functionality, innovative features, and customizable configurations to match each client's specific requirements. Our engineering team works with inverter manufacturers to develop data libraries needed to collect performance data. Then we collaborate with the performance management team to automate the analytics that boost revenues. Ongoing upgrades and product innovations are the norm, integrating advanced controls and analytic features that result in improved performance.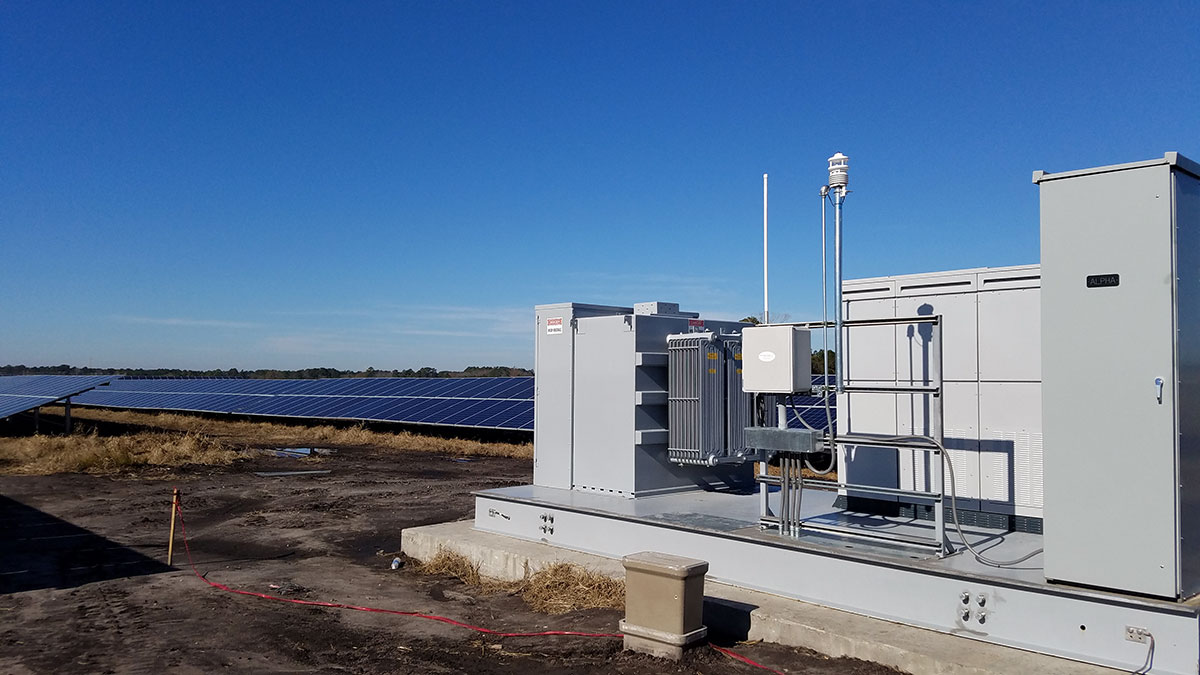 It's a pleasure working with the Trimark team. Their depth of knowledge with all stakeholders in the solar industry is unparalleled. I'm also very impressed by their interactions with our utility offtaker clients. They clearly see the value in both subject matter expertise and customer service.
Khalid Simjee, Senior Project Manager, sPower
Trimark's SCADA Platform Features
Secure, bi-directional data telemetry
Real-time data collection from site devices
Real-time monitoring and management of site performance – via web browser or mobile device

Real and reactive power at POI
Site conditions
Equipment status

Portfolio-wide management from a single dashboard
Advanced inverter control for curtailment for all types of inverters
Automated Voltage Regulation and integrated capacitor bank controls
Automatic Generation Control
CAISO Automated Dispatch System (ADS)
Frequency control
NERC CIP compliance
Customizable alerts and alarms
Historical performance reports
Trimark SCADA Meets Your Business Objectives
Fast track implementation to ensure you meet commercial operations date (COD) commitments
Performance management features to enable ongoing profitability
Advanced controls to support grid stability
Unique Functions, Better Control
Monitor and control all types of inverters, trackers, MET instruments, and storage systems
Guarantee a desired real power setpoint at the POI regardless of site conditions
Regulate power production with Automatic Generation Control (AGC) and CAISO Automated Dispatch System (ADS)
Monitor and manage performance for a site, an entire portfolio of sites, and site devices
Support NERC CIP compliance
Key Differentiators of the SCADA Platform
You don't need to be an engineer to use Trimark Vantage User Interface. It's built to look and feel like a business tool.
Trimark married advanced SCADA functions with intuitive analytical tools to meet both OPERATIONAL AND BUSINESS needs of resource owners, operators, and maintenance teams.
Trimark SCADA's Best Practices: Measure, Monitor, and Control
Track power characteristics at the point of interconnection (POI)
Monitor all devices in real-time
Coordinate operation of control devices
Retain all historical data
Secure authority and access
Automate control requirements
Integrate with remote systems
Did You Know?
Trimark's metering, RIG, and SCADA products and services are used in large-scale PV facilities: Topaz Solar Farm (550MW), Solar Star (579MW), and Desert Sunlight (550MW).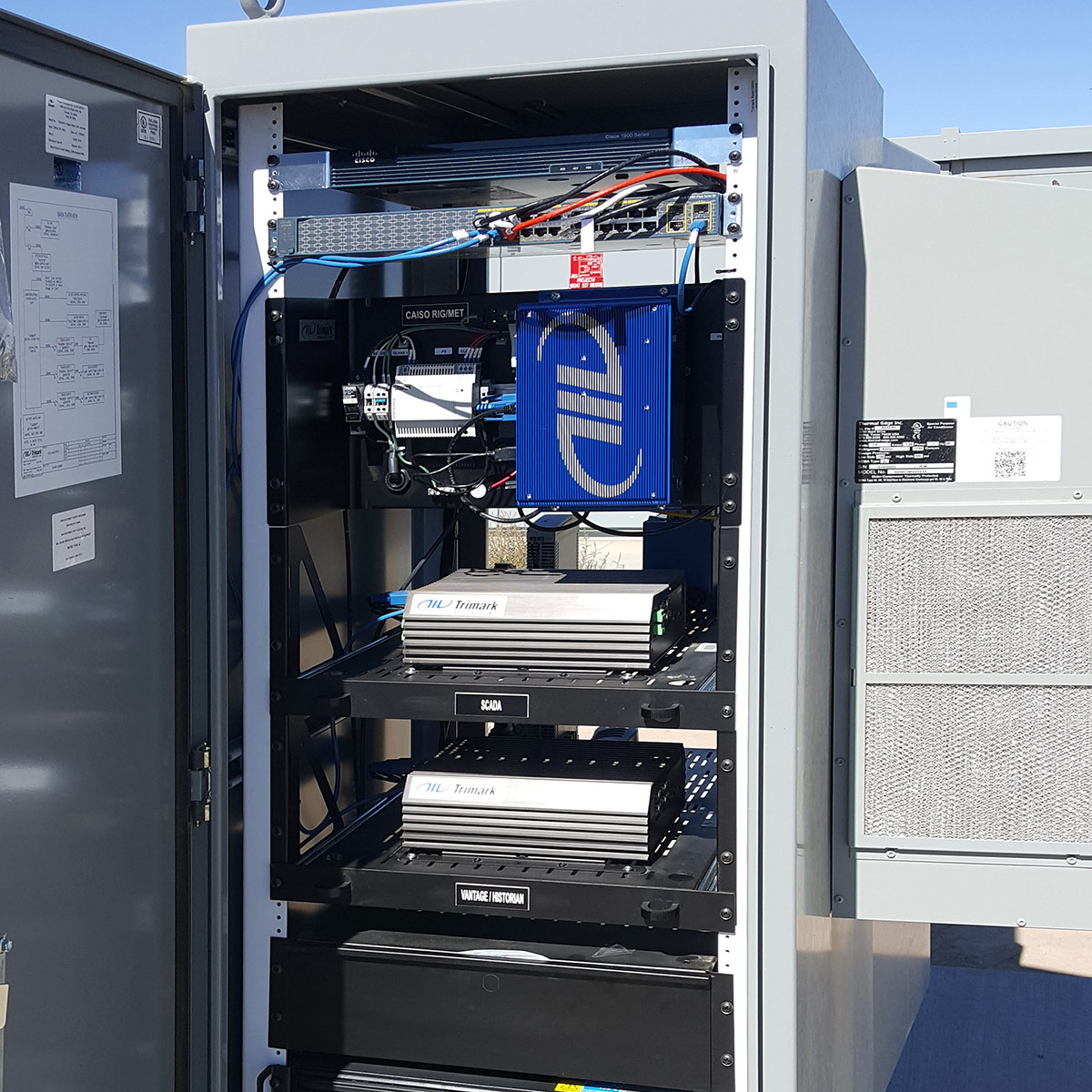 Trimark SCADA Monitors, Manages and Controls Power Plant Operations
Maximize uptime
Meet revenue commitments
Optimize asset life
Fine tune performance for maximum profitability
Utility-Scale PV SCADA System
Real-time monitoring and management – via browser or mobile
Advanced controls (Curtailment, Voltage Regulation, Frequency, Volt-VAR, Cap Bank)
Reports
Alerts and alarms
Forecasting
SCADA Gives You  Command of Your Site, Data, and Performance
See exactly how your plant is operating with clear, concise data
Curtail automatically when a utility sends a signal to curtail
Log in anywhere your people are located to see the data using a cell phone or iPad
Projects
Corazon Ranch Solar (Under Construction)
Corazon Ranch is a 200 MW solar project located in Laredo, Texas. Trimark is providing a full SCADA system for the site.
Read More…
Winterfell
Trimark imported data from the Vertech SCADA system for display in Trimark's Vantage HMI. The SCADA system gathers data from 20 inverters, 2 weather stations, plane of array irradiance sensors, back of modules temperature sensors, and trackers. The data will be used for monitoring only; no control is planned.
Read More…
Antelope DSR3
Trimark provided an end-to-end solution, including a virtual server which runs the Trimark SCADA System with Historian, 3 revenue meters with integration into a Trimark loss compensation system and 4 network drops. Trimark additionally integrated this resource into an existing CAISO RIG, provided CAISO New Resource Implementation (NRI) services, met NERC/CIP Network Compliance and coordinated with a third party vendor to integrate MET Stations and sensors into Trimarks SCADA. To meet CAISO Market and SCE Transmission requirements, controls at the POI were done by integrating into the Trimark Master Plant Controller (MPC) at the sPower Big Sky Substation.
Read More…
See More Projects
"In a year-end situation where you have to be online, things can be panicked. Trimark just jumps and says, we can get this done."
Randy Corey, Vice President, sPower
LINKS
When is third-party solar monitoring needed?

, Solar Power World, 5.7.18

A look at third-party solar monitoring providers

, Solar Power World, 4.27.18

SCADA's Role in Utility-Scale PV Plants

, Solar Pro, 11.1.17

Three ways technology can help manage utility solar project performance,

Solar Power World, 7.3.17

SCADA Systems for Large-Scale PV Plants

, Solar Pro, 5.1.17

Large solar projects choose Trimark to help with compliance and operational control

, Solar Power World, 11.12.15
Trimark Vantage System Overview
Features and benefits
Utility-Scale SCADA Solution
How SCADA helps clients monitor and control their PV plants
Trimark SCADA Testimonial
How SCADA enables Algonquin and sPower to control and operate their sites
Algonquin Power's Use of SCADA
How SCADA provides key data about site performance