Tune in to Our Roundtable Discussion With PV Magazine!
We're excited to announce our participation in another virtual event! This time, it's PV Magazine's Virtual Roundtables USA, the latest in an ever-expanding queue of online webinars and panels hosted by the Berlin-based solar power publication.
One of the industry's leading formats for discussion, learning, and deep-dives into the world of photovoltaic technology and research, PV Magazine's Roundtables attract experts from all across the industry, and all around the globe. While under normal circumstances these events are held at an in-person venue, 2020 has thrown "normal" out the window, so the PV Magazine team has fully transitioned their roundtables onto a live-streamed platform—with incredible success.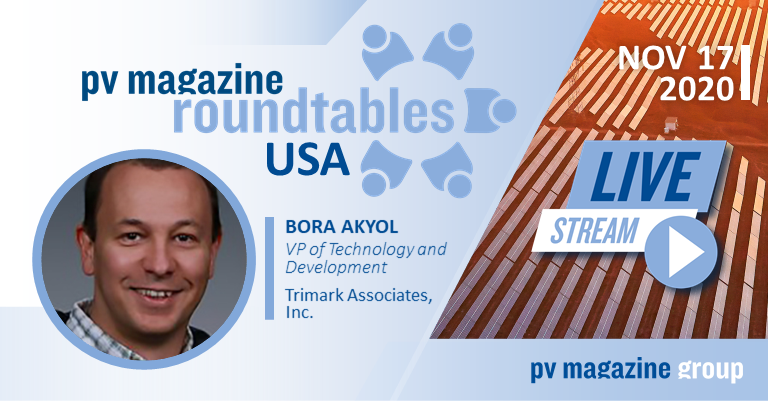 This upcoming event is focused on the U.S. solar market and particularly Solar+Storage, which Trimark will cover. Representing Trimark on a panel of industry experts, Dr. Bora Akyol, our VP of Technology and Development, will speak about energy storage standards—including the MESA Standards Alliance, which Trimark recently joined. Prior to the actual panel – part of the "What Storage Can Learn From Solar" session – Bora will give a brief presentation on MESA and energy storage trends. Afterwards, PV Magazine's editors will moderate the discussion, fielding questions to Bora and the other panelists. (Audience questions will be included as well!)
Interested in learning more about energy storage and MESA Standards? Be sure to register for the event here* (registration is 100% FREE!) and tune in to the live stream on Tuesday, November 17. Bora's session begins at 11 AM PST—you definitely won't want to miss it.
MESA: ADVANCING THE STORAGE INDUSTRY THROUGH OPEN-SOURCE COMMUNICATION SPECIFICATIONS
As energy storage continues its meteoric rise in popularity throughout the PV market, the need to develop and introduce open, non-proprietary communication standards for this technology is as crucial as ever. Trimark's VP of Technology Development, Dr. Bora Akyol, will explain how adopting such standards will ultimately streamline the integration of energy storage systems, making storage technology more accessible across the industry.
Need for/benefits of open ESS communication standards
Intro to the MESA Standards Alliance, and Trimark's membership
MESA-DER (Distributed Energy Resources) spec
Per PV Magazine:
A global epidemic, extreme weather, and natural disasters, political elections… all occurring in the wake of changing technologies and materials. This year, we dive into the subjects that matter most in today's thriving U.S. solar+storage market. The editorial team of pv magazine will moderate discussions relevant to the growing market with our Virtual Roundtables USA. Providing a virtual stage for our speakers, experts can easily join in from all of the country to bring industry and market insights directly to your home.
_______________________
* We are aware that some of our customers/contacts have experienced issues reaching PV Magazine's website. While we are not precisely sure why this might be, it may be due to your business' firewalls blocking access to the site, given that it is hosted overseas. If you are unable to reach the website, please contact your network administrator, try on multiple browsers, and disable any ad-block add-ons.