Trimark's Vantage SCADA platform is a utility-scale control and monitoring solution designed to maximize revenue of utility-scale PV, battery storage, and PV+BESS resources.
Vantage integrates the advanced control functions and monitoring capabilities that resource owners need to optimize operations, automate report generation, meet PPA performance requirements, maximize profits, and support asset management.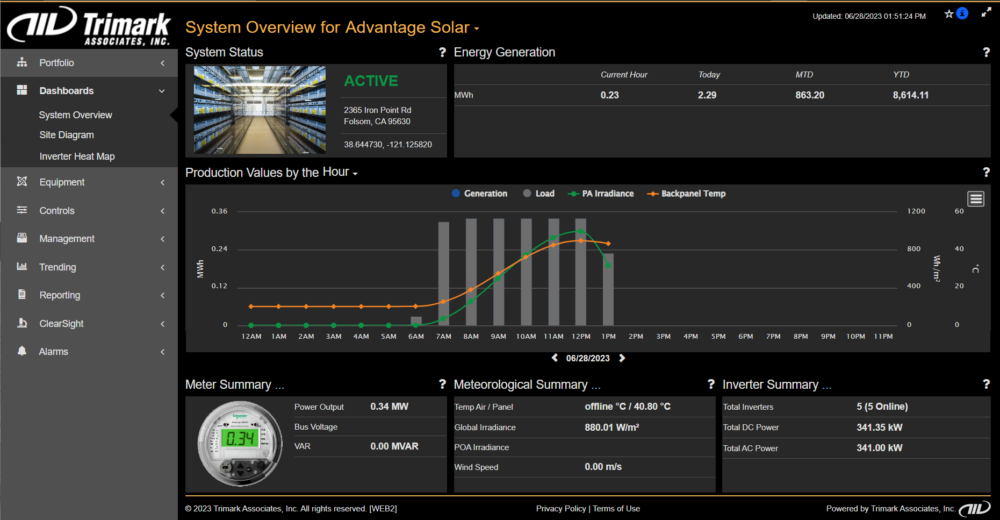 See a Vantage System Demo
Trimark's RIG fulfills CAISO's requirement to participate in California's electric markets.
Trimark's turnkey RIG solution includes a computer, software, design, testing, configuration, installation, and certification. Trimark's RIG is scalable and supports NERC CIP compliance.
Trimark's RIG meets CAISO RIG requirements including:
Real-time data telemetry between site devices (revenue meters, plant interfaces, meteorological systems, and PV inverters) and CAISO
Sends data securely from generation to CAISO using DNP and 2048-bit encryption
Automated Generation Control (AGC) enables authorized set point adjustments
Data aggregation from multiple resources
Supports resource generation control, data historization, alarms and alerts, reporting, and analytics
Trimark builds complete MET stations to your specifications and PPA requirements. We start by using instruments that meet accuracy requirements and our standards for reliability. Then our team designs, procures, assembles, configures, installs, and commissions the complete system.
Typical MET Station Assembly
Solar irradiance sensor(s) (e.g. Global Horizontal Irradiance (GHI) and Plane of Array (POA)) that meet the ISO 9060 Secondary Standard and IEC 61724 Class A Standard
All-in-one MET sensor including wind direction/speed, temperature, barometric pressure, humidity
Rain sensor
Back panel temperature sensors
Data logger
Back-up power (PV panel, UPS, battery)
Frame and equipment enclosures
Optional Instruments and Equipment
Soiling stations
Diffuse irradiance
MET stations are typically included in Trimark's end-to-end SCADA solution.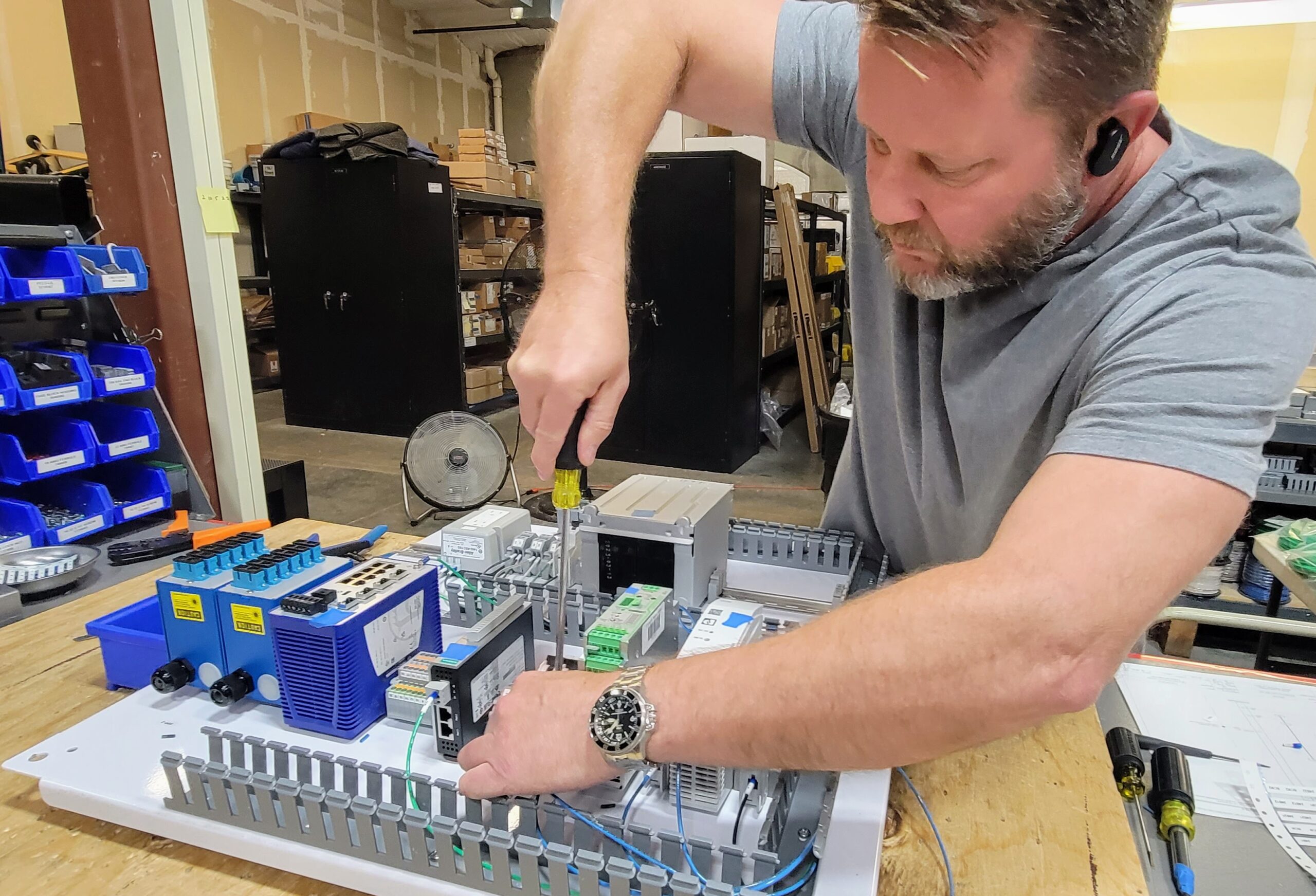 Field Network Equipment (AKA network drop) bridge between intelligent devices (e.g. inverters, RIG, meter, MET stations) and the fiber network. They're like onramps to the freeway that transmit data to the SCADA server and RIG. Typically, one network drop is required for each inverter skid (in a PV plant). Network drops typically include:
Fiber switch
Auxiliary ethernet switch
I/O converter
Serial converter
Power supply, UPS and Battery
NEMA 4 enclosure
The fiber patch panel is separate from the network drop. The EPC or its fiber contractor typically provides patch panels as part of the fiber network scope.
Network Equipment is typically included in Trimark's SCADA solution.
Trimark's assembles computer cabinets to protect critical computer, network, and security equipment from harsh environmental conditions and cyber threats.
Our cabinet assembly is designed to be mounted on a standalone concrete pad. If your site has a conditioned computer building, we can install the cabinet within the building or install just the equipment into existing shelving.
Cabinet
NEMA 4 enclosure with lockable security and weather protection (typically 19", 42U. Other sizes and ratings available.)
Typical Equipment
Network appliances (e.g. router, firewall)
UPS and batteries
Patch panels
GPS satellite clock
Switches (distribution, ethernet, Fiber optic)
I/O
Options:
HVAC (recommended for outdoor installation)
Power inverter in lieu of UPS and batteries
NEMA 4X stainless steel cabinet
Server Cabinets and/or associated equipment are part of Trimark's SCADA solution.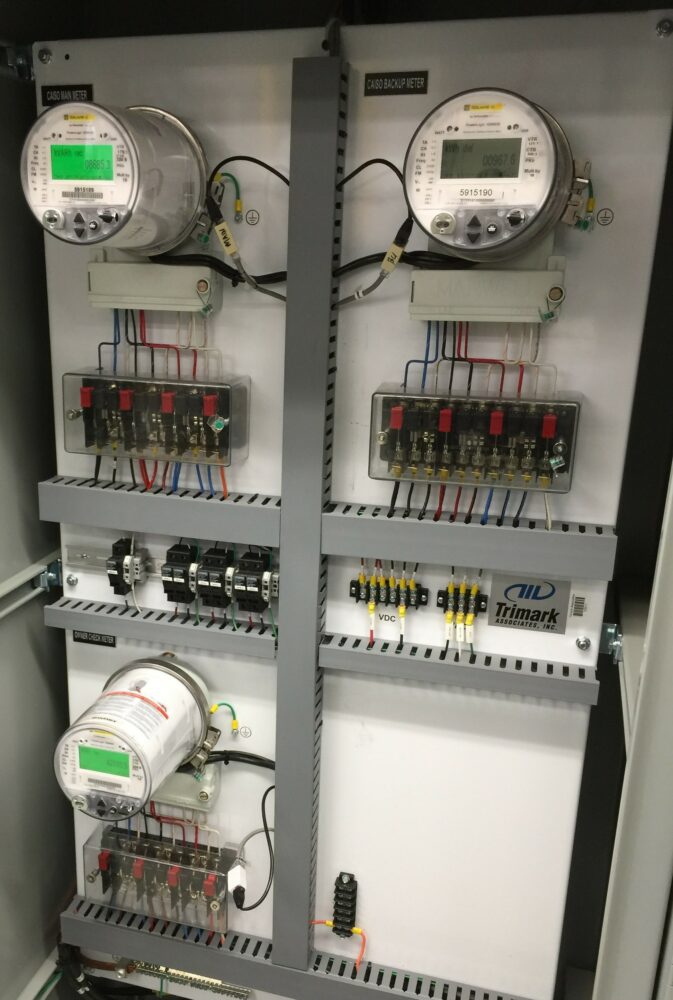 Metering cabinets provide security and environmental protection for revenue meters. The cabinet can be provided in a variety of sizes depending on the number of meters required. Trimark assembles, wires, and bench tests each cabinet before shipping to the site. The Meter Cabinet includes:
NEMA 4 enclosure (various configurations)
Meter sockets
10 pole test switch
Socket or panel mount
Meter Cabinets are included in Trimark's Metering solution.